Rusutsu Resort Local Area & Attractions
Summer
| | |
| --- | --- |
| | Rusutsu Resort Amusement Park |
Hokkaido's largest amusement park with over 60 types of rides and attractions.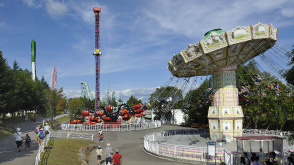 ■ 8 Roller Coasters
Rusutsu has plenty of thrills and excitement in store, come to test your nerve on all 8 of our exhilarating roller coasters.
■ Thrill Rides
Exciting rides will launch you high into the air, but you won't have long before you are racing back down to earth!
■ Kart & Train
Race around circuits in Karts or slow the pace with pleasant train rides that take you around the park.
■ Amusement & Etc.
All the favourite amusement park attractions are here as well as some new and exciting ones to try.
■ Kid's Land
Lots of fun and smiles can always be found here. Safe and fun attractions designed just for children.
■ Super Jumbo Pool
The Super Jumbo pool features a number of pools, water slides and fountains including a 300m lazy pool, which is the longest in Hokkaido!
---
| | |
| --- | --- |
| | Rusutsu Resort Golf 72 |
Whether you are a seasoned golfer or having your first swing you will cherish playing on the 4 meticulously maintained courses. Enjoy 72 holes of golf in the beautiful natural setting of rural Hokkaido.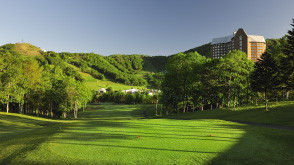 ■ Tower Cource
Ozaki Masashi, a famous professional golfer from Japan, designed this course that features natural and flowing undulations. The contrast between the green grass and white birches make this course especially beautiful during summertime.
■ Izumikawa Cource
This course is laid flat amongst the beautiful scenery of the alpine plains. Ideally suited for beginners, there are still some hidden tricks that may trap even expert players.
■ Wood Cource
Strategic layout is the key to the design of this course. This course is a true pleasure to play on; even natural hazards such as ponds reflect the surrounding beauty of the course's natural settings.
■ River Cource
The River Course has a variety of hole layouts that enables players to alter the challenge of their game. New players can take advantage of shorter courses to experience and enjoy the game of golf through a more beginner-friendly round.
---
| | |
| --- | --- |
| | Summer Activities |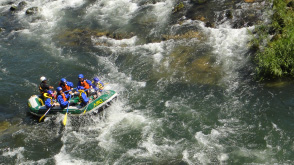 ■ Rafting
Rafting is one of Hokkaido's most exciting outdoor sports and always offers something new with the changes of seasons.
■ Kayak, Canoeing, Fishing
Alternative activities to experience the stunning nature of Hokkaido .
■ Cycling, MTB, Horseback Riding
Explore Hokkaido on foot.
■ Nature Tour, Trekking
Hokkaido is full of special places to visit, let an experienced local guide show you the way.
Winter
| | |
| --- | --- |
| | Rusutsu Resort Ski Area |
Rusutsu Resort boasts one of the largest ski areas in Hokkaido. 37 beautiful trails, spread across 3 unique mountains give this ski area combined total length of 42 km. The vast terrain paired with Hokkaido's famous powder snow allows Rusutsu Resort to cater for all abilities. From gentle enticing terrain to steep and deep powder run.
The Resort offers ski-in/ski-out access for the ultimate convenience.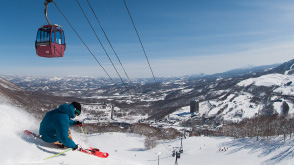 ■ Mt.Isola
Mt Isola is the highest mountain of Rusutsu Resort ski area and offers remarkable views of Lake Toya and Mt Yotei.
From the summit, guests can enjoy long wide trails.
■ East Mt.
With an altitude of 868m East Mt offers a variety of long, thrilling couses. East Mt can be directly accessed from The Westin Rusutsu Resort.
■ West Mt.
West Mt trails are directly connected to Rusutsu Resort North & South Wing Hotel, for easy and convenient access. This mountain features numerous gentle courses and is the perfect place for beginners to practise. Experts can enjoy the large terrain park, to perfect tricks and a tree run area to try the fresh powder.
Additionally, West Mt is open for night skiing every night during winter. Guests can enjoy the unforgettable experience of skiing or snowboarding under the bright floodlights.
---
| | |
| --- | --- |
| | Winter Activities |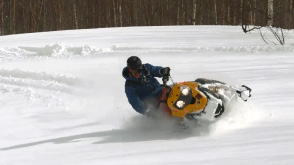 ■ Snowmobile
Experience the wonderful feeling of riding on a snowmobile through the snowfields. Instructors will provide beginners with help and assistance
■ Dog Sledding
Sledding through the snowfields is an exhilarating experience. After a quick lesson in dog-sled operation, you can handle the dog-sled, for yourself.
■ Horseback Riding
Discover a beautiful wintertime view of Lake Toya while trekking on horseback.
■ Nature Tour
Try a different kind of winter experience by walking on the powder snow. Enjoy the beautiful nature of the surrounding national parks with an experienced local guide to show you the way.
■ Kids Adventure
Get the family together and work as a team to create a giant snow house! It's fun!!