The elegant and expansive hallway full of natural light and greenery leads into to "ATRIUM", offering a breakfast buffet and à la Carte menus for lunch and dinner. Meanwhile, Japanese restaurant "Kazahana" serves delicious cuisine featuring the rich flavors of Hokkaido.
KAZAHANA - Japanese Cuisine
Beakfast:7:00〜9:00
Dinner:17:00〜21:30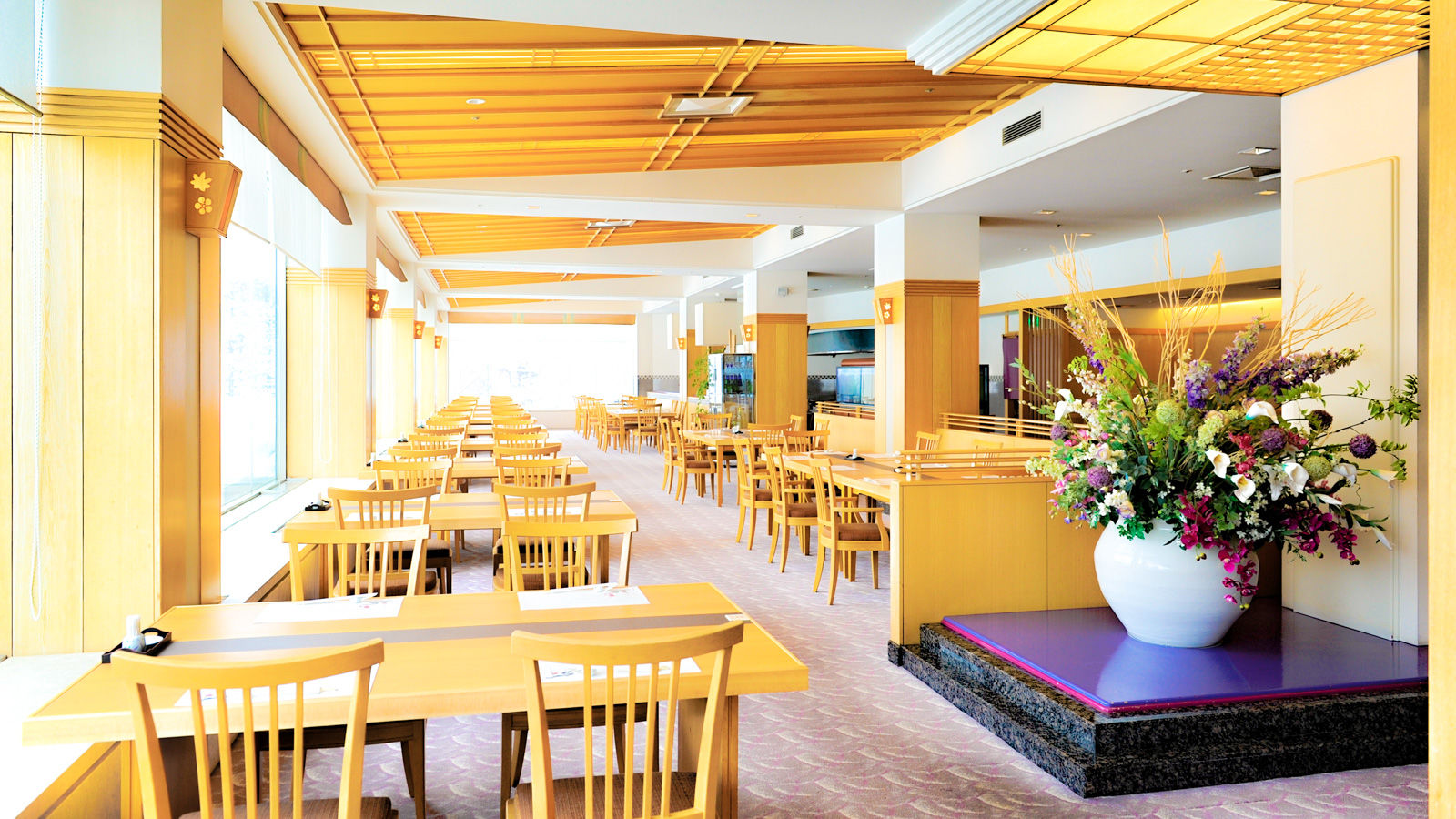 Savor the mouthwatering sight of fresh Hokkaido produce and seafood. Discover the taste of seasonal Japanese kaiseki cuisine (a traditional banquet served over several courses) or reserve a seat at the Teppanyaki counter to witness the true skill of a chef preparing the finest local provenance. Taste the difference in the distinctive flavors, and enjoy viewing the chef's refined techniques.
ATRIUM Buffet & Lounge
Breakfast:7:00〜9:30
Lunch:11:00〜15:00
Dinner:17:00〜20:30
ATRIUM offers all-day dining in a genuine resort setting, with the
scenery of the season pouring in through the spacious windows.
The morning buffet offers a range of popular breakfast dishes using fresh vegetables from Rusutsu Farm, home-baked bread, and egg dishes.
Enjoy à la Carte menus for lunch and dinner that offer Japanese, Chinese and
Western favourites taking in the full range of delicious Hokkaido ingredients.
*We also can provide dishes catering to various allergies and a Hamas menu. Please enquire if necessary.
Rusutsu Resort's Delicious Water
The water used at Rusutsu resort is spring water filtrated by nature over many decades, originating from the rain that falls upon Hokkaido's epic Mt.Yotei located in the heart of the Shikotsu-Toyako National Park. This soft water (that is weak alkaline) has a mild taste, and was selected by the Ministry of Environment as one of the best 100 spring waters in Japan. Quench your thirst with this delicious and refreshing natural Rusutsu spring water from the tap in your room.
Initiatives of Rusustu Farm
We opened the Rusutsu Farm to directly procure fresh and safe seasonal ingredients for our guests. We are proud to use the 40 kinds of vegetables harvested on the farm in the resort's restaurants. The 162 sheep (as of 2015) reared on the farm provide succulent lamb for our special summer BBQ, as well as for original knitted woollen products that are available at the hotel shops.